Lots of how-to sites these days treat Pointillism as though it is a technique as simple as grabbing a Q-tip and filling in shapes with dots of a color.  Maybe it is, now.  But Pointillism - as it appeared in the work of Seurat, Signac, and Cross - was much more technical than the Pointillist techniques often employed today. 
by Georges-Pierre Seurat
Pointillism actually relies on a trick of the eye.  Not just to blend adjacent dots of color together into one mass, but to actually blend two or more different adjacent colors into a solid mass of a new color.  Up close of course we will see hundreds or even thousands of little dots, but, as we back away, the transformation happens.  Suddenly a picture with what seems to be a full color and tonal range begins to appear before our eyes.  
Another interesting quality in Pointillist works is that, because they are not mixed in the traditional subtractive method they are believed to be brighter.  Instead of physically blending primaries to make the secondary and terciary colors they wanted to achieve, Pointillists let the viewers' eyes do the work.  The colors seem to twinkle and bounce back and forth between blended and pure colors. The optical blending occuring in Pointillist work is thought to be like the additive process of RGB (red, blue, green) colors of light in a computer screen, which blend to create white rather than black.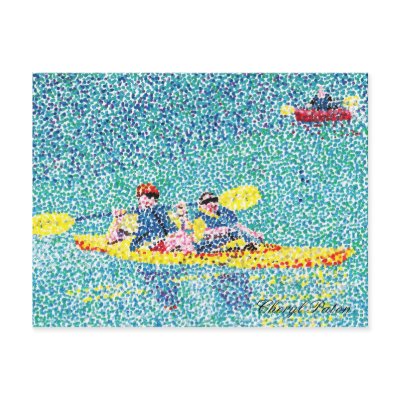 Left: from Ask Art Academic, Middle: by Cheryl Paton, Right: by Georges-Pierre Seurat
This is at least the theory behind the especially bright quality of Pointillist works.  We can't ignore that pigment is pigment and light is light and each behave differently despite a difference in the means by which they are blended.  Furthermore, we can see plenty of examples of subtractive blending occuring in Pointillist work when dots of color overlap and when seemingly pre-blended dots of color are applied to the painting.  These paintings are still undeniably different from traditional painting and, while a little of this physical blending is inevitable to truely create a full range of colors, within these paintings there are still many, many dots of bright unmixed color that must be blended by our eyes.
by Paul Signac
While Pointillist works are very lively, they have two major drawbacks - no texture, and little sense of depth.  Despite the fact that, amazingly, an entire range of colors can be achieved, it is very difficult to create the same strong sense of depth and variety of textures that you find in works physically and smoothly mixed in the subtractive method.  But, convincing and accurate were not really the point of these works.  They were about the eye, about color, about energy, and about the little disparate parts that make the whole.
So how should you go about making a Pointillist painting?  I would go ahead and sketch my image out lightly in pencil onto my paper.  I would grab a small round paintbrush (the smaller you can stand to make the dots, the better the effect).  Then I would put red, blue, yellow, and white onto my pallete.  Notice I did not say black.  Black was not traditionally used.  Artists made black and shadows by placing correct proportions of blue, red, and yellow next to and on top of eachother. 
Images above: by Henri-Edmond Cross
You would need very little black anyway, because most shadows are not actually black at all.  A shadow can be easily achieved by creating a sense of a color's complimentary where you want the shadow to be.  For example, if I were painting a green ball, I would place a lot of yellow and green dots together, then where I wanted the shadow to be, I would start placing in red dots along with the yellow and blue dots.  Shadows are just darker, less saturated versions of an object's color.  The red, in this case, serves to dull and darken the green.  After all of this I would use some of my white paint and place some dots where I would like for a highlight to be.
If I wanted to make brown hair, I would start by placing a bunch of small yellow dots (because yellow is the lightest color and not as dominant as red and blue) where I want the hair to be. The yellow will also be the highlights (along with a little white), so I would need to decide from which direction I want the light to flow in my painting.  Then I would go ahead and start carefully adding in some red dots, close to and even over top of the yellow in some cases, and very little blue.  The blue will be most present in the shadows, not only because it is darkest but also because it serves as a complementary color to the orangish-brown we are creating in the lighter parts of the hair. 
by Georges-Pierre Seurat
When painting in any style it is important to step back from the work and view it from a distance, but with Pointillism it is crucial.  Up close, you aren't supposed to see anything besides dots.  How can you possibly know what you are creating unless you are stepping back from the work after applying every two or three dots?  Sounds silly I know, but it's true.  You will probably spend more time 6 to 10 feet away from your work than you will right up to its surface applying the paint.  It may just be a bunch of dots, but no one ever said it would be a fast and easy process.  You will learn as you go and apply dots as you feel they are necessary.  It is alright to overlap dots, but remember that the more you overlap, the denser and heavier it is likely to appear.  It is possible a work with a lot of overlapped paint will not possess that signature brightness of Pointillist artwork.
Please give it a try!  Let us know how your piece turned out and maybe we could post it to the blog!
--Sarah Kramer, Studio Arts Intern